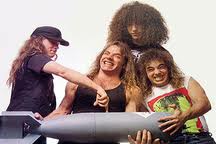 12. Nuclear Assault – New York City–  Led by ex-Anthrax bassist Dan Lilker came a noisy, not-afraid-to-be-ugly Speed Metal band by the name of Nuclear Assault.
Dan Lilker left the mosh metal-obsessed  Anthrax, who could be a little too silly, to play a more serious brand of Heavy Metal.
Sometimes Nuclear Assault would go all-out and thrash like mad like on 'Hang The Pope', which is a song that is instantly catchy and is analogous to a piece of bubble gum stuck to one' brain.
Rough-hewn Punk politics meets social awareness is what could be viewed by some as part and parcel of Mr. Lilker's agenda on his journey with Nuclear Assault, since both of these things play such an intimate role in characterizing N.A.'s songs.
1986's 'Game Over', the debut Nuclear Assault record, is this band's only real must-have record in the band's catalog.
Another by product of this immortal monolithic-like music we call Heavy Metal is what I will deem the 'Metal resurrection'; Nuclear Assault came back to life after twelve years with 2005's long-awaited sixth N.A. album, 'Third World Genocide'.
– Rich Castle
Death Scream – Heavy Metal Reviews – Heavy Metal Interviews – Heavy Metal News