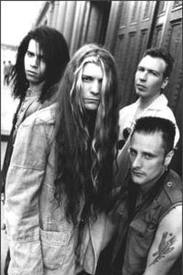 11. Warrior Soul – New York City – Led by the enigmatic outspoken, long-haired Punkmetaller Kory Clarke, Warrior Soul personify the hybrid style of Hardcore/Punk Metal that only New York City can lay claim to.
The Metal comes before the 'Core though as one listen to the following Warrior Soul albums will show you: The incredulous workout that is the debut W.S. album – 'Last Decade Dead Century', 1991's 'Drugs, God and the New Republic', and 1992's 'Salutations from the Ghetto Nation'.
Politically incorrect and much maligned in America, I am not sure how many of you readers know exactly how great and powerful Warrior Soul really was and still are.
The deliciously titled 1996 'F*cker' LP by Kory Clarke and co. which America much like with Judas Priest's 'Killing Machine' album a.k.a. 'Hell Bent For Leather' wouldn't allow as the album title, saw Warrior Soul redirect their focus upon Europe and Japan instead in the years following up to the present.
It was good to have a new Warrior Soul album unleashed upon us all though, as the band seemed to have half-disappeared in a cloud of smoke or something until  2009's 'Destroy the War Machine', also known as Chinese Democracy, the long awaited sixth studio album. The new album sees irrepressible Warrior Soul frontman Kory Clarke as his drug addled, controversial self once again.
– Rich Castle
Death Scream – Heavy Metal Reviews – Heavy Metal Interviews – Heavy Metal News