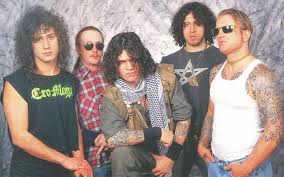 10. Cro-Mags – New York City – Cro-Mags were a stalwart Hardcore Punk band that morphed into the territory known as  Crossover Thrash Metal. Metallic Crossover reached it's apex in the late 1980s and Cro-Mags were right there to usher the movement in with their 1986 debut LP entitled 'The Age of Quarrel'; Cro-Mags getting there first.
The 'Best Wishes' LP followed in 1989. 1992's 'Alpha Omega', though,  has got to be the album in their discography that will appeal most to open-minded Metalheads.
The year 2000 brought the 'Revenge' LP which proved to be the fifth and last Cro-Mags album. The band had been active for a long time however, since 1981, and thus have  played on the sweaty stages of such world renowned Manhattan, New York City clubs like Max's Kansas City, The Palladium, and CBGB.
– Rich Castle
Death Scream – Heavy Metal Reviews – Heavy Metal Interviews – Heavy Metal News