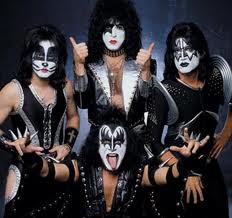 1. Kiss – Queens and Bronx County of New York City –  Did you have doubts about who would top the list?  And unlike certain other places on the web that I could mention,  we all know and love this band and don't doubt for a millisecond that they are a Heavy Metal band.  So is AC/DC. We here at Death Scream know the roots of our music and how inextricably linked the terms Proto- Metal, Hard Rock and Heavy Prog are to Heavy Metal and all it's sub-genres and offshoots.
Nothing was better than watching this band work the stage back in their 1970s heyday.
Whether it was the exploding guitar of Ace Frehley or the outstretched freakiness of Gene Simmons poking his tongue out from somewhere on his ugly mugface, we watched these guys strut around on stage in high heels that made each of the four costumed marauders of Kiss look just like the mega-rich superheroes that they became quickly.
Kiss band members- Ace, Gene, Paul, and Peter are beyond legendary; they are legend itself.
Formed in 1973 in New York City the band quickly rose to prominence and delivered a spate of albums that would be backed by the greatest live performance from a Rock or Metal band, bar none, ever.
The fearsome foursome of Kiss didn't see their stars directly rise from the sale of their studio albums however, but rather by their 'Alive!' albums that captured the band  in-concert. The first 'Alive!' came out in 1975 after three simple but adequate studio albums: The 1974 Debut LP- 'Kiss', 1974's  'Hotter Than Hell' and 1975's 'Dressed To Kill'. 'Alive II' came out in 1977 after three more studio full-length records: 1976's 'Destroyer' and 1976's 'Rock and Roll Over';  the 1977 'Love Gun' LP.
The difference by the time that 'Alive II' came out was the fact that Kiss had hit the big time following the success of the first 'Alive'. Kiss were so huge by 1978 that the band members were each able to release a  solo album.
I remember how we, as fans, would show our individuality by whose solo album we chose to buy. Most kids when I was growing up couldn't afford to buy all four of the solo albums, nor did anyone want to!
I remember buying Ace Frehley's solo album and being blown away by the power-chord crazed closing instrumental entitled 'Fractured Mirror'. It made an indelible impression on me as a young electric/acoustic guitar player.
Peter Criss, the drummer of Kiss, made a solo album that I thought of as some Frank Sinatra lightweight crap, or somethin'. Then there was the self-professed as*hole Gene Simmons; I didn't gravitate towards Gene like a lot of my cronies did.
Ah yes. Good times indeed. And the most amazing thing is that the band, not in their original form though, have passed the test of time and remain making albums.
Kiss are now simply stripped down to their core, as it always really ever was and still is- Bassist/vocalist Gene Simmons and Lead vocalist/guitarist Paul Stanley.
You can read the reviews of  the 18th and 19th Kiss studio albums; respectively 1998's 'Psycho Circus' and 2009's 'Sonic Boom' right here at Death Scream.
Rich Castle
Death Scream – Heavy Metal Reviews – Heavy Metal Interviews – Heavy Metal News